With a completely different look and feel to the previous one, the new NBF website clearly directs users to the relevant section for them – whether they are consumers, trade visitors or NBF members.
The consumer section focuses on why shoppers should look for products made by NBF Approved manufacturers and includes our online Bed Buyers' Guide to help them understand the ins and outs of the bed buying process – the different types of product available, tips on what to look out for when they're going through the selection process together with after care advice and answers to the most frequently asked questions. They can search for different types of product and see which NBF members make them. Video content throughout the consumer section adds to the user experience.
The trade section is for all those with a professional interest in the bed industry – retailers, wholesalers, specifiers, suppliers etc. The NBF Code of Practice features prominently and explains what the code and the new Due Diligence Programme means for those in the trade. There's separate areas for marketing support, training & education and NBF Recycling. There's also a product search facility for component supplies as well as for finished goods.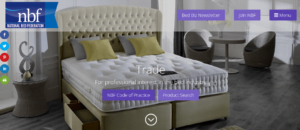 The Members' area is packed with helpful information on key areas such as industry sales data, consumer research reports, regulations & standards, education & training, marketing support, latest industry news and of course the NBF Code of Practice. To access this area, users must work for a NBF member company and will need to register and set up a login/password.