Bed trade – get ready for National Bed Month in March by downloading our free marketing toolkit.
Join us for our annual awareness campaign to promote the importance a good, supportive and comfortable bed plays in getting a healthy night's sleep – particularly one made by an NBF-approved member. Why not use our pack to promote your business via your website and social media or to include in a mail shot to your customer database?
The theme is Wake Up on the Right Side, with the Right Bed alongside the hashtag #RightSideOfTheBed. Sleeping on and taking care of a comfortable, supportive bed plays a crucial part in achieving a restorative night's sleep, which has huge benefits to our physical and mental wellbeing – helping us wake up on the right side of the bed in the morning.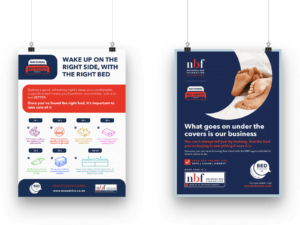 We encourage all bed retailers and NBF members to engage with your customers and consumers. The multi-media marketing toolkit includes:
Logo in multiple formats
Social media infographics and graphics
Social media banners
Social media copy
Printable posters
Campaign video
Guidance document
Find out more about this year's campaign.
#NationalBedMonth2023 @thebedfed @bedadviceuk